Garlic might not promote romance but it does have antibacterial and antiviral action. In the book, The Healing Power of Herbs*, Michael T. Murray, N.D. writes: Garlic has been shown to have broad-spectrum antimicrobial activity against many genera of bacteria, virus, worms and fungi as summarized in several works. These findings seem to support the use of garlic throughout history in the treatment of a variety of infectious conditions.
When my children were little I tested ways to overcome infection. I wanted to reduce our use of antibiotics. Fresh garlic is strong. I tested the effect on myself. I tried chewing a clove of garlic when I had a sore throat. I found that it numbed my sore throat. That was good. My husband's reaction at bedtime was like the porcelain figure that has a clothespin on its nose.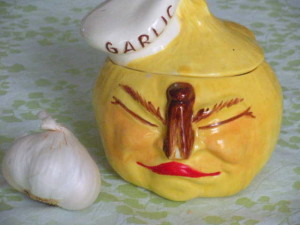 He said, "Whew, I can tell you've had garlic". And he turned his back to me in bed. Garlic also protects others from receiving cold germs.
Garlic can actually be absorbed through the skin. When a slice of a garlic clove is taped to the foot, the taste buds will pick up the flavor of garlic within a few minutes. It can be harsh on mucous membranes–it is better to include it with food.
How could I manage to give a dose of fresh garlic to my kids? My daughters were willing to try minced garlic mixed in a spoon of applesauce. Not my son. For him I minced the garlic and put it in a clear capsule (available at the health food store). He was able to swallow the capsule without tasting the garlic. This treatment helped the kids get over winter colds– along with vitamin C and cod liver oil. Sometimes raw garlic can upset the stomach. It is good to start with a small dose– a half of a clove or a fourth of a clove. We didn't experience stomach upset.
For tenacious coughs I made garlic tea. I cut up a couple cloves of garlic and simmered them in a cup of water for 2 to 3 minutes. I mixed a half cup of the tea with a couple tablespoons of apple juice. The tea is a gentler dose of garlic.
Another recipe for garlic tea starts with hot boiled water. Then add a chamomile tea bag and a clove of garlic that has been sliced in half. Allow the garlic and tea bag to steep for 3 to 5 minutes. (The raw garlic steeped in hot water has a stronger effect than garlic that has been boiled.)Then add honey and lemon. My daughter is using this recipe for her children and finds it helpful for congested coughs–and the kids (age 3, 7 and 9) like it.
NOTE: children under one year of age should not be given honey.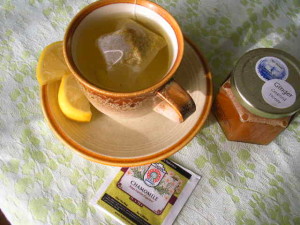 The flu vaccine varies in its effectiveness from year to year. It is good to have alternative ways to fight off viruses and bacterial infections.
* Murray, Michael, N.D., The Healing Power of Herbs, Prima Publishing; Rocklin, CA 1991 p.23.