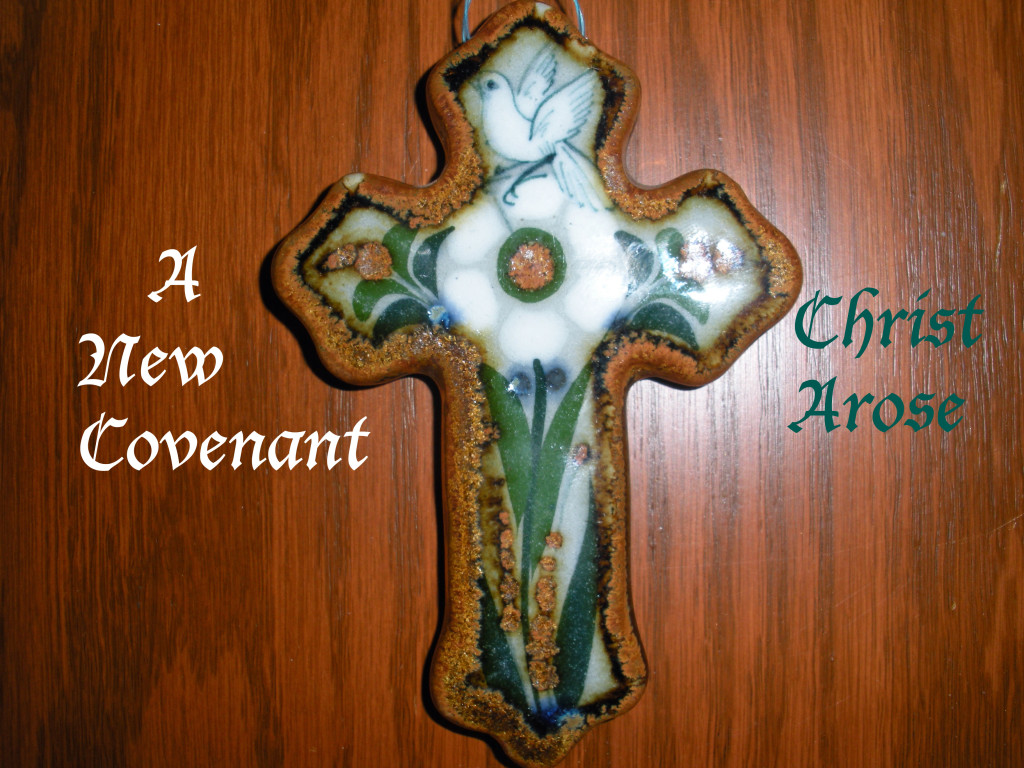 Memories of the week leading up to Easter stretch back into my childhood. I was blessed to grow up in a home where we read the Bible and attended church regularly. Like any family we had problems, but the foundation for my faith developed from hearing the Word of God.
In past years I attended Maundy Thursday services. What is Maundy Thursday? It commemorates the day of the last supper. The following scripture describes this event.
And when the hour came, he relined at the table, and the apostles with him. And he said to them, I have earnestly desired to eat this Passover with you before I suffer.   For I tell you I will not eat it   until it is fulfilled in the kingdom of God. And he took the cup, and when he had given thanks he said, Take this and divide it among yourselves. For I tell you that from now on I will not drink of the fruit of the vine until the kingdom of God comes." And he took bread, and when he had given thanks, he broke it and gave it to them saying, "This is my body that is given for you.   Do this in    remembrance of me." And like wise the cup after they had eaten, saying , "This cup that is poured out for you is the new covenant in my blood." Luke 22: 14-20
Communion was served on this quiet day of reflection. Communion symbolizes the new covenant.   God offers us forgiveness of sin and   salvation through Jesus. 
When my husband and I traveled to Israel we visited the site of a deep pit. The theory is that Jesus was held in this pit prior to the crucifixion.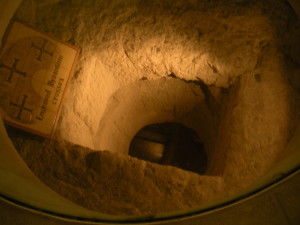 It is hard to take in fully the pain and confusion that the followers of Jesus must have felt in the days between Jesus arrest and his triumph over death. Peter's denial of Christ gives us a little glimpse.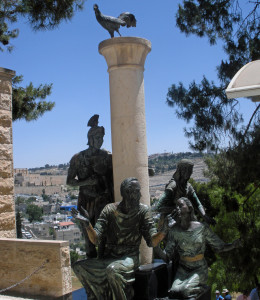 Out of deep sorrow comes great joy. So much wonder and joy in the scene that the apostle John describes.
But Mary stood weeping outside the tomb, and as she wept she stooped to look in the tomb. And she saw two angels in white, sitting where the body of Jesus had lain, one at the head and one at the feet. They said to her, "Woman, why are you weeping?" She said to them, "They have taken away my Lord, and I do not know where they have laid him." Having said this she turned around and saw Jesus standing, but she did not know it was Jesus.
Jesus said to her, "Woman, why are you weeping? Whom are you seeking?"
Supposing him to be the gardener, she said to him, "Sir if you have carried him away, tell me where you have laid him, and I will take him away."
Jesus said to her, "Mary."
She turned and said to him in Aramaic, "Rabboni!" (which means teacher). John 20: 11-16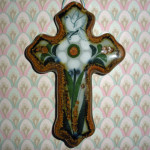 One of my favorite songs on Easter morning is Christ Arose.
Death cannot keep his prey—Jesus my Savior!
He tore the bars away—Jesus my Lord!
Up from the grave He arose
With a mighty triumph o'er His foes;
He arose a victor from the dark domain,
And He lives forever with His saints to reign.
He arose! He arose! Hallelujah! Christ arose!
I am praising God for the new covenant of grace.
Linking with Soul Survival,  Weekend Whispers, Word of God Speak, Faith Filled Friday and Friendship Friday