My daughter gave me a copy of the book, Evidence Not Seen. The book is a memoir by Darlene Deibler Rose. She was a missionary to the Dutch East Indies, and was in a prisoner of war camp on Celebes Island during WWII.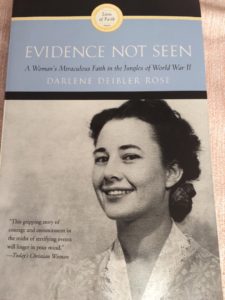 I knew very little about what took place in the Pacific islands during WWII. Japan was expanding it control, and civilians were herded to internment camps to do hard labor in support of the Japanese War effort. The description of events was a history lesson.
But much more than that it was the testimony of a young woman about God's care for her during her internment in a labor camp, and then in a prison camp. She was accused of being a spy with the threat of execution hanging over her.
Bible verses and hymns that she had learned over the years sustained during the darkest moments. She recalled the hymn, Only Believe, written by Paul Rader (Pastor of Moody Church 1915 to 1921). These are the words she remembered in her solitary cell:
Fear not, little flock, whatever your lot.
He enters all rooms, the doors being shut.
He never forsakes; he never is gone.
So count on his presence from darkness 'till dawn.
Only believe, only believe
All things are possible, only believe.
Darlene's memoir was also a portrayal of a marriage that was built on the goal of serving the Lord. It is a beautiful story that inspires faith in God.
This post is part of the #Write28Days challenge. You can view all of the posts in this series by clicking here.
I am linking up with Booknificent Thursday and Literary Musing Monday.