Christmas, the day that we commemorate Jesus' birth, is coming. Last night we attended a concert titled Night of Glory. It was good to pause from my errands, cookie baking, and card writing. I listened to the story of God's amazing gift, told in song. The concert began with the orchestra playing Farandole (March of the Kings).
The wise men had a star in the night sky to lead them to the promised Savior. We have the Bible—old and new testament. In both prophecy and in the gospels, Jesus comes into the world bringing light.
The people who walked in darkness have seen a great light; those who dwelt in a land of deep darkness, on them has light shone. Isaiah 9:2
The gospel of John tells about the Savior coming to earth.
The true light, which gives light to everyone, was coming into the world. He was in the world, and the world was made through him, yet the world did not know him. He came to his own, and his own people did not receive him. But to all who did receive him, who believed in his name, he gave the right to become children of God. . . John 1: 9-12
I remember the times that the electricity in our home was disrupted by a storm. When the power was off we looked for flashlights and candles. We needed light to dispel the darkness, to see where we were going.
In the same way we need a relationship with God through Jesus. We live in a world darkened by sin. Jesus gives direction for our life.
Again Jesus spoke to them, saying, "I am the light of the world. Whoever follows me will not walk in darkness, but will have the light of life." John 8:12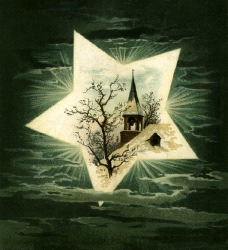 This post is linked with the Five Minute Friday writing community. The prompt is: DARKNESS