Today I woke up to snow decorating the trees and covering the ground. I was drawn to spending time outside.
The hyacinths in front of our house were still peeking up, despite the snow.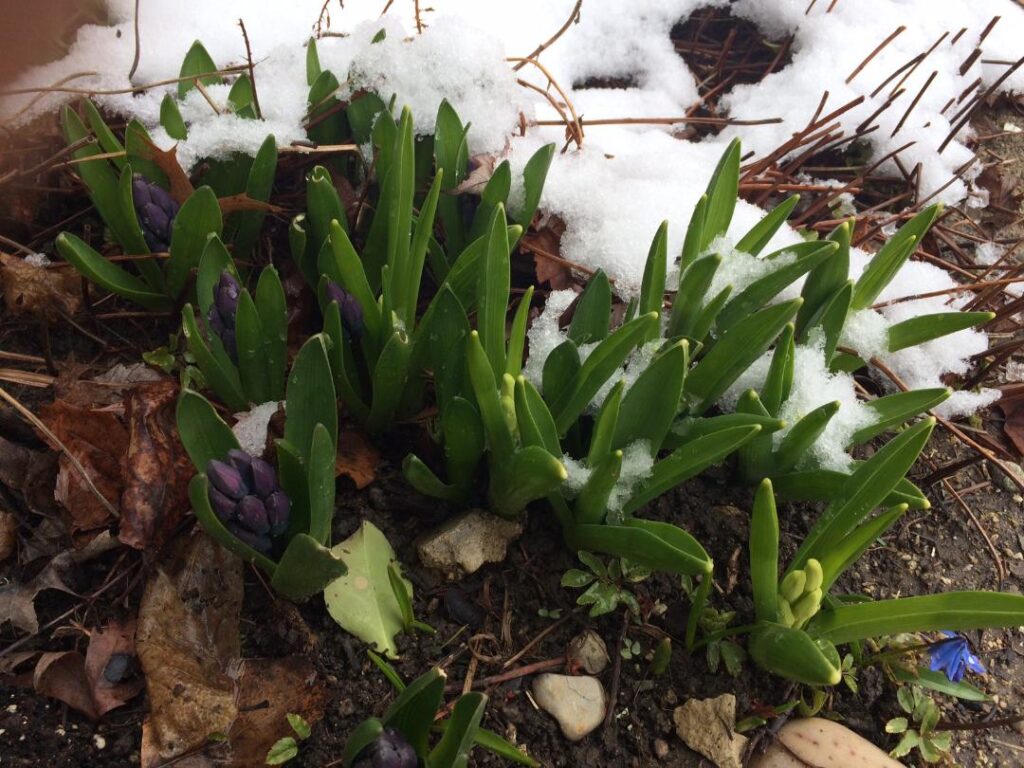 The sound of many birds twittering and whistling filled the morning air. As I took a walk through our neighborhood I caught sight of a couple robins.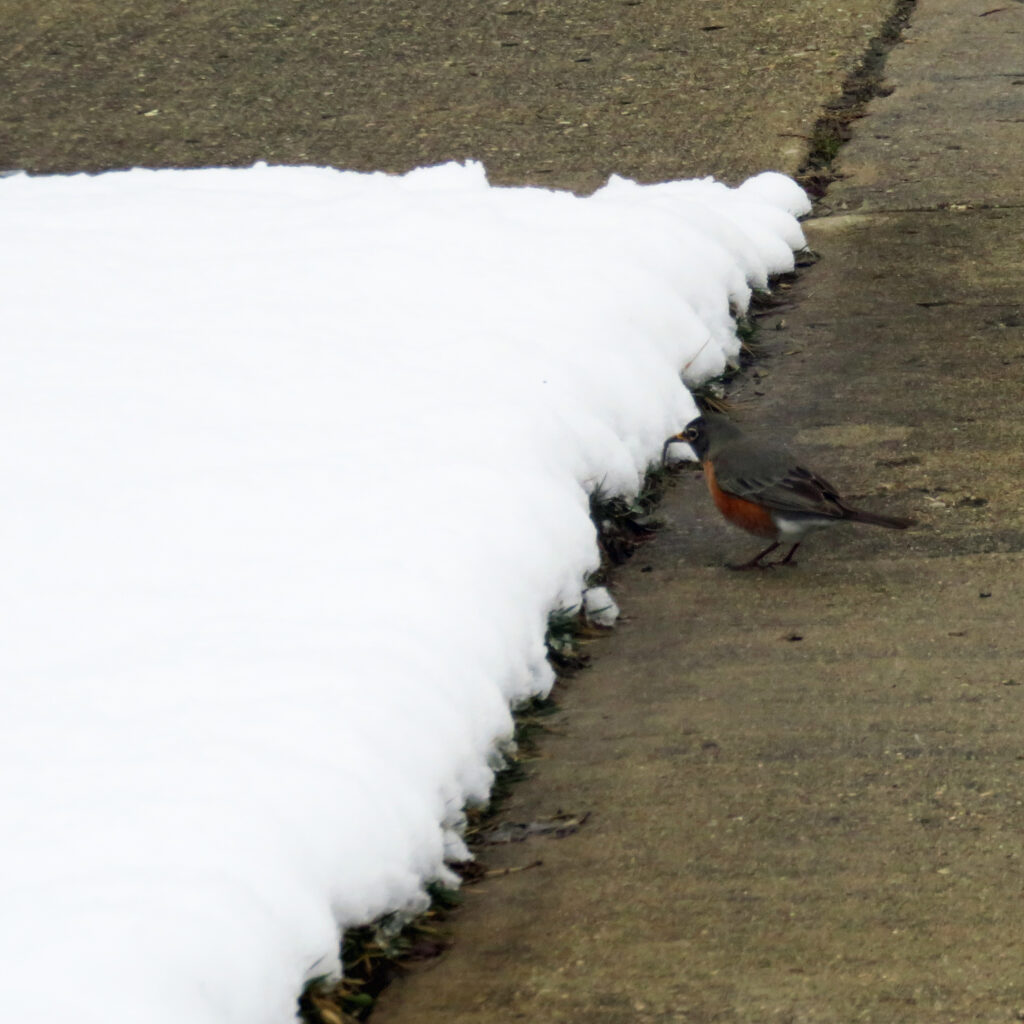 Can you pick out the robin in the tree?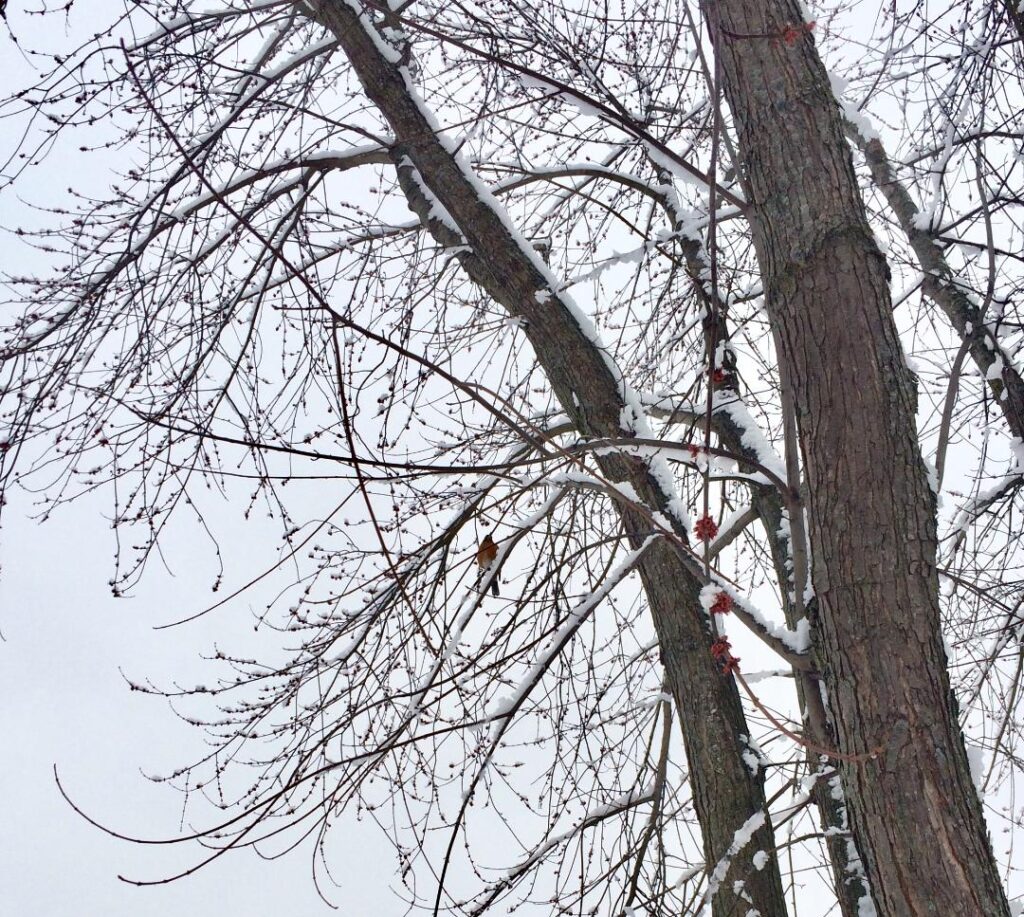 It was refreshing to walk in the brisk cold air–a few other walkers were out as well.
A variety of activities and tactics are helpful in this unusual time.
My morning Bible study is an essential part of my day. Did you know that the Bible has hundreds of reference to fear? This pandemic is stirring fear and panic, but God's word tells us to fear God alone. I need to remind myself each day. The following verses give instruction.
The fear of the Lord is the beginning of wisdom; all those who practice it have a good understanding. His praise endures forever! Psalm 111:10
Jesus said: I tell you, my friends, do not fear those who kill the body, and after that have nothing more that they can do. But I will warn you whom to fear: fear him who, after he has killed, has authority to cast into hell. Yes, I tell you, fear him! Are not five sparrows sold for two pennies? And not one of them is forgotten before God. Why even the hairs of your head are numbered. Fear not, you are of more value than many sparrows. Luke 12:4-7
I have begun to limit the amount of time I spend watching news briefs. I read books. Sunday morning we met with our church from our home through the zoom platform. Last night I watched an episode of Call the Midwife. Almost every day I have FaceTime with my daughters and grandchildren. We are blessed with the technology that allows us to stay in touch.
How are you doing? What is helping you during this time of isolation?
This post is shared with Sue's image-in-ing.