This summer my husband and I were in a bulk food store. He wandered around while I chose whole grain flour, spices and coconut oil. He brought a book to me and said, "I think you would like this." The title of the book is Be Your Own "Doctor" An informative Guide to Herbal Home Health Care. The back cover explains that the author is an educator and midwife.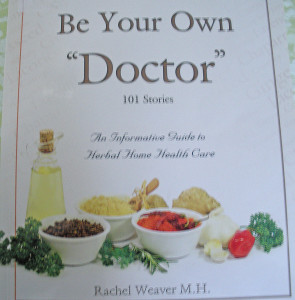 When I flipped through the book I agreed with my husband. It is a good resource. The book has chapters on a number of herbs including chamomile, comfrey, echinacea, lavender, red raspberry leaf and slippery elm. Rachel Weaver describes the way she has used these herbs and the results she achieved. Throughout the book Weaver gives recipes and instructions on teas, salves and tinctures.
Weaver covers pregnancy, infant care and common ailments with her suggestions for supporting health. Some of the treatments I was already familiar with.
Garlic has been part of our home health for many years. The chapter on garlic provides a good review of information that I have read in other sources. The new feature in this chapter is a Super Duper Tonic, a combination of garlic and herbs that acts like an antibiotic.
Weaver provides a recipe for a gallbladder flush. It is similar to one that I have used over the years for a colicky gall bladder. My doctor recommended that I have gall bladder surgery after my youngest son was born. I was breastfeeding him and didn't want to have surgery. I decided to try a gallbladder flush first. I was able to avoid surgery.
The book contains common sense, but it is good to keep in mind that every family is unique and may find some information more helpful than others. A paragraph in the foreword explains the benefits and limitations of the book.
Be Your Own Doctor is not intended to give you any medical advice. The FDA prohibits me from doing that. I am not a medical doctor and the things that I am presenting here were not scientifically tested at the cost of thousands of dollars. I am only passing on to you common sense information that is the result of common sense living and has been used by many mothers and grandmothers for hundreds of years to heal their families. The proof that these things work, lies in the successes of people, not in the million-dollar tests of the laboratories. But remember that you are responsible for whatever information you choose to use from this book.
I was happy to see that the book is available from the Bulk Herb Store. Just click the button to visit the this store.
Linking with Titus 2sdays,  Friendship Friday, Booknificnent Thursday,  Whole Hearted Home, A Little R & R,  the Homemaking Party, Tuesdays with a Twist and the Art of Homemaking