It is a good year for berries and cherries. I have been harvesting cherries, raspberries, currants and gooseberries. My cherry tree and berry bushes have been delightfully full of fruit.
It is also a good year for the Japanese beetles. I have had some every year.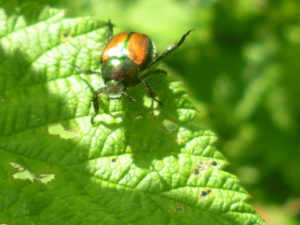 It has been my practice to check the bushes and knock the beetles off into a container of soapy water. Typically the beetles have been on my raspberry bushes and rose bushes.
The leaves on the raspberry bush are a tell tale sign.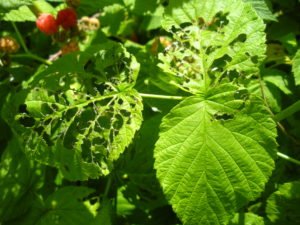 A couple weeks ago I looked out of my kitchen window and noticed that the leaves on the upper branches of my cherry tree were all eaten. Whoa! !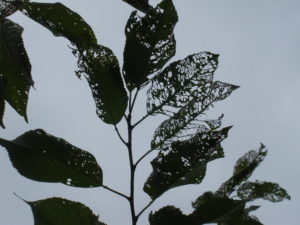 I tried my method of knocking beetles into soapy water. I stood on a chair and used a long stick. Some times the beetles fell in the water, sometimes they fell on my head or on my clothes. I enlisted the help of my son. We picked off hundreds of beetles.
My husband said we needed to find an additional method. So after doing an on-line search I bought a beetle trap that has floral scents and a pheromone lure. The reviews of such a trap were mixed.
I followed the directions and hung the trap on a pole away from the cherry tree, away from the raspberry bushes and rose bushes. To my amazement the trap began to attract beetles immediately.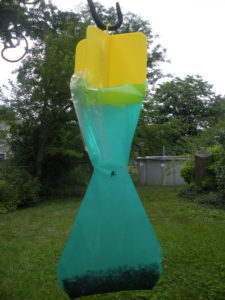 In one afternoon the trap had a large heap of beetles.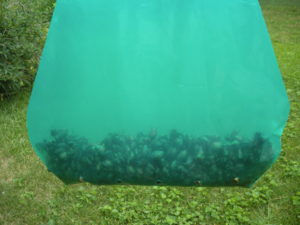 So I wonder, is this a banner year for the beetles? Or can I expect this to happen again next year? I looked up the life cycle of Japanese beetles and discovered that the females burrow in the ground after dusk and lay eggs that hatch into pupa, become grubs and emerge as beetles the next season. We may need to treat the lawn. Grubs feed on the roots of grass, tomatoes and strawberries—and of course I have all of these in my yard!
The infestation is discouraging—but I have much to be thankful for. My freezer is filling up with berries. The elderberry bushes are full of blooms.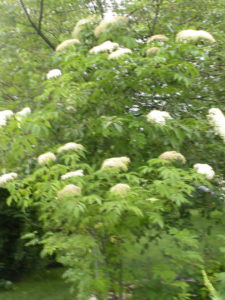 I will have lots of elderberries in August (and the beetles aren't touching those bushes). I will be canning elderberry juice for the winter months.
Linking with Tuesdays with a Twist,  Sue's Wordless Wednesday, Nature Notes,  Seasons and the Art of Homemaking