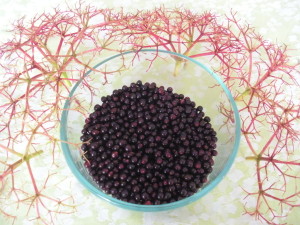 A number of recipes for elderberry syrup are posted on the internet. I have collected ideas for making the best use of my elderberries. I want to preserve the health benefits for this fall and winter.
UPDATE 3/13/2020: Please use caution when taking elderberry syrup during a viral infection. It is possible that it may overstimulate the immune system.  This article explains when you should stop taking elderberry.
UPDATE 5/31/2020: Another article about the effects of elderberry and information about cytokines. https://mommypotamus.com/does-elderberry-cause-cytokine-storms/
I have a good harvest of berries this year. Instead of making a syrup to keep in the refrigerator, I am going to can elderberry juice. Then during flu season, I can bring out the preserved juice and add some raw honey.  Raw honey has helpful enzymes, but the health benefit diminishes if it is heated.
The recipe for elderberry juice: place 1 cup of water for each cup of berries in a stainless steel pot. (If you are using dried berries you will need 2 cups of water for each cup of berries.) Bring to a boil and then simmer over low heat, covered, for about 30 minutes, stirring frequently. Crush the berries with a potato masher and add ¼ teaspoon ceylon cinnamon for each cup of berries, a slice of organic ginger root and a couple slices of an organic lemon.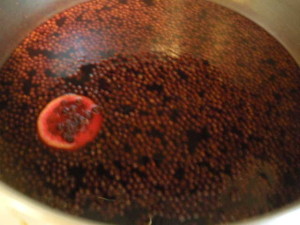 Simmer for 20 minutes more without a cover. Strain the berries in a strainer that has been lined with a double layer of cheesecloth.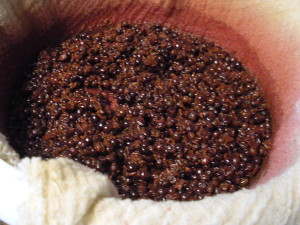 Allow it to drain, pressing on the berries periodically with a wooden spoon. Add ¼ cup honey to each cup of strained juice and mix thoroughly. Heat the juice to a simmer over medium heat before pouring into sterilized jars.
According to instructions for berry juice in Stocking Up* the juice can be canned in a hot water bath. Place the prepared lids on the jars. Tighten the lids and then give a quarter turn back. Place in the prepared boiling water–making sure that the jars are submerged, water above the lids.  Instructions for pint or quart jars give a 30 minute processing time. I plan to use 8 ounce jars. For 8 oz. jars the time might be a little less, but to be safe I will process for 30 minutes. (If you make a small amount of juice there is no need to can it. Allow the juice to cool. Add 1/2 cup of raw honey to a cup of juice and refrigerate. It will keep for a couple months.)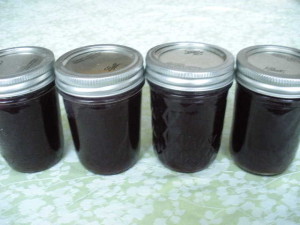 When the jar of juice is opened for use it can be poured into a larger jar and raw honey added. And then it should be kept in the refrigerator. A child can be given a teaspoon at a time. An adult can take a tablespoon at a time. The dose can be repeated every couple hours when fighting a cold or the flu.
An alternative way to use the juice–place a teaspoon (or a tablespoon) of juice in  water or cooled tea. Add a teaspoon of raw honey.
NOTE: This remedy is not for children under one year of age; they should not be given honey.
If you enjoyed this post I hope you will visit my facebook page and click like.
* Stocking Up edited by Carol H. Stoner, Rodale Press: Emmaus, PA 1977.
Linking with Healthy, Happy, Green & Natural Hop, Our Simple Homestead Hop, Friendship Friday,  A Little R & R,  Wildcrafting Wednesdays, Tuesdays with a Twist and Titus 2sday