Perhaps it was ten years ago when I came across an unusual cranberry sauce recipe in the newspaper. I tweaked it a little bit, and my family loved it. It is sweet and tart with a nice burst of flavor from the spices. It has become a requested item for Thanksgiving dinner. I've shared this recipe before, but feel it is worth repeating.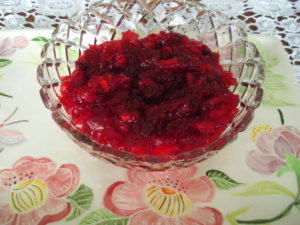 Here is the recipe:
1 lemon
12 ounces fresh cranberries
½ cup crystalized ginger, finely diced
1/3 cup finely chopped onion
1 clove of garlic, minced *optional
3/4 cup honey
½ cup sugar
½ tsp. cinnamon
½ tsp. dry mustard
½ tsp. salt
a pinch of cayenne pepper (optional)
Grate the zest from the lemon. Peel off the white pith and discard it. Cut the lemon in half, remove the seeds and then dice. Place cranberries, lemon zest, diced lemon and the rest of the ingredients in a stainless steel pot. Bring to a boil, stirring constantly. Reduce the heat and simmer until the cranberries burst and the sauce has thickened. Taste test and add a little more sugar if desired. Serve at room temperature.
Thanks for visiting! Have a blessed Thanksgiving.
Turkey Greeting Card courtesy of FreeVintageArt.com
Sharing this post with Healthy, Happy Green & Natural , Christian Blogger and Tuesdays with a Twist