Today I am making some potato salad for dinner. I read an interesting article that listed the health benefits available in potatoes and rice which are cooked and then cooled. According to the article: The process of cooking and then cooling potatoes and rice leads to the formation of resistant starch, a type of dietary fiber. The article goes on to state the benefits of resistant starch to colon health. You can read the article here.
So I am reposting a recipe that I have shared before–a Finnish recipe.
6 medium size yukon gold potatoes
2 Tablespoons olive oil
1 teaspoon vinegar
1/3 cup mayonnaise
1 apple (I like pink lady for this recipe)
1 large dill pickle
2 Tablespoons of chopped chives
1 garlic clove, peeled and diced (optional)
1/3 cup whole milk yogurt
½ teaspoon salt
½ teaspoon black pepper
Steam the potatoes until tender. Immediately peel them—the skin will slip off with a little effort. (I use a fork to stabilize the potato and a knife to gently remove the skin.) Chop the hot potatoes coarsely. Mix the olive oil and vinegar and add it to the potatoes. Mix. Then add the mayonnaise. Mix. A southern chef taught me this process of working with the potatoes while they are still hot to preserve the creamy quality of the potatoes.
Then refrigerate the potatoes while you prepare the rest of the ingredients. Peel and chop the apple, dice the dill pickle and garlic clove. Add the apple, pickle, garlic and chives to the potatoes and mix.
Make sure the potatoes have cooled down before adding the yogurt. When it is cool add the yogurt, salt and pepper.
If you make the salad a day ahead the flavors have a chance to meld together.
Enjoy!!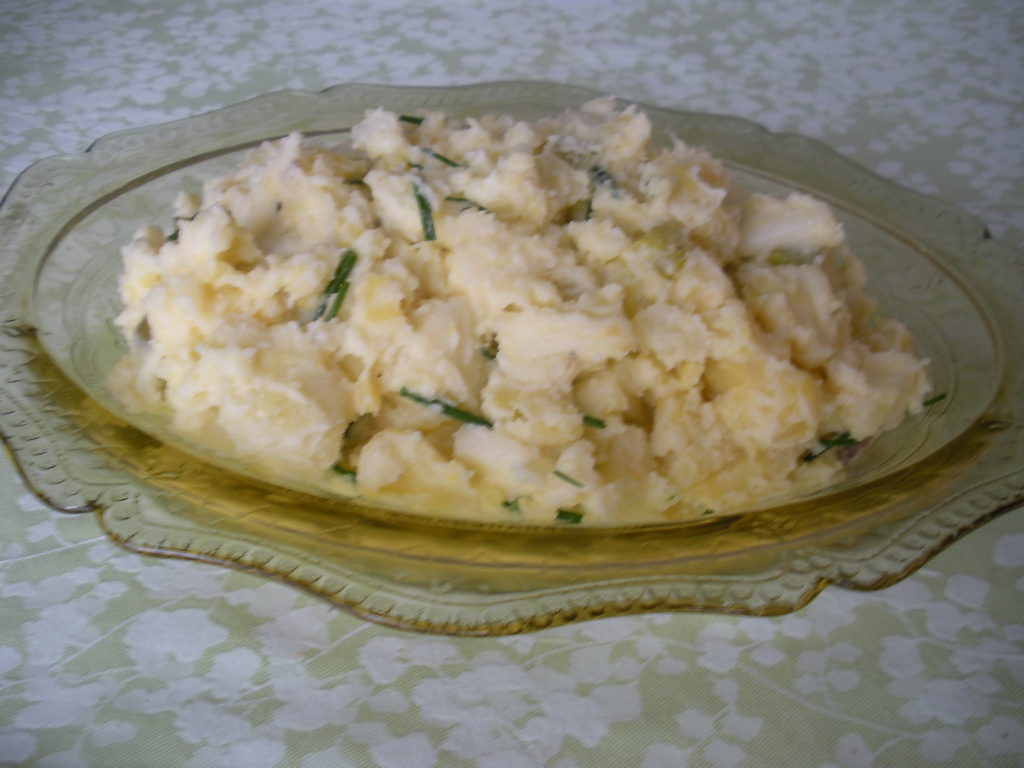 Potatoes have these nutrients: Vitamin C, Vitamin B-1, Niacin, Potassium and Iron.
The Michigan Potato Industry Commission has these tips for storing potatoes:
Handle gently. Bumps and bruises can lead to rot.
Store at a temperature between 40 to 50 degrees. Storing in the refrigerator may be too cool, causing the potato starch to turn to sugar. (I don't really have room in my refrigerator for a bag of potatoes.)
Store in a dark dry place. It is a little challenging to store potatoes in the summer! Any ideas?
I am sharing this post at the Healthy, Happy, Green and Natural Party