Recently I have been going through some old folders and found a copy of a recipe with a story. According to the distributor of the recipe, she paid $250 for the Neiman-Marcus Cookie recipe. Did I ever try the recipe? I couldn't remember.
I had the ingredients on hand—well, most of the ingredients. I made a few changes (adding barley flour & raisins, reducing sugar). After softening the raisins in hot water and draining them, I chose to put the raisins and walnuts in the food processor with a portion of the oatmeal. My husband loved these chocolate chip cookies!
So here is my adaption of the cookie recipe:
1 cup butter
¾ cup sugar
¾ cup brown sugar
2 eggs
1 tsp. almond extract
1 + ½ cup all purpose flour
½ cup barley flour
½ tsp. salt
1 tsp. baking powder
1 tsp. baking soda
2 + ½ cups instant oatmeal
12 oz. chocolate chips
1 cup raisins
1 cup walnuts
Cream the butter and both sugars. Add the eggs and almond extract. Beat until smooth. Then add the flours, salt baking powder, baking soda and 1 cup of oatmeal. Mix, forming dough.
Place 1 + ½ cup of oatmeal, the raisins and walnuts in the food processor and process until you have coarse crumbs. Combine the raisin & walnut mixture with the cookie dough mixture. Then fold in the chocolate chips. Scoop a tablespoon of dough and form into a ball—place each ball 2 inches apart on a lightly greased cookie sheet. Bake for 10 minutes at 375°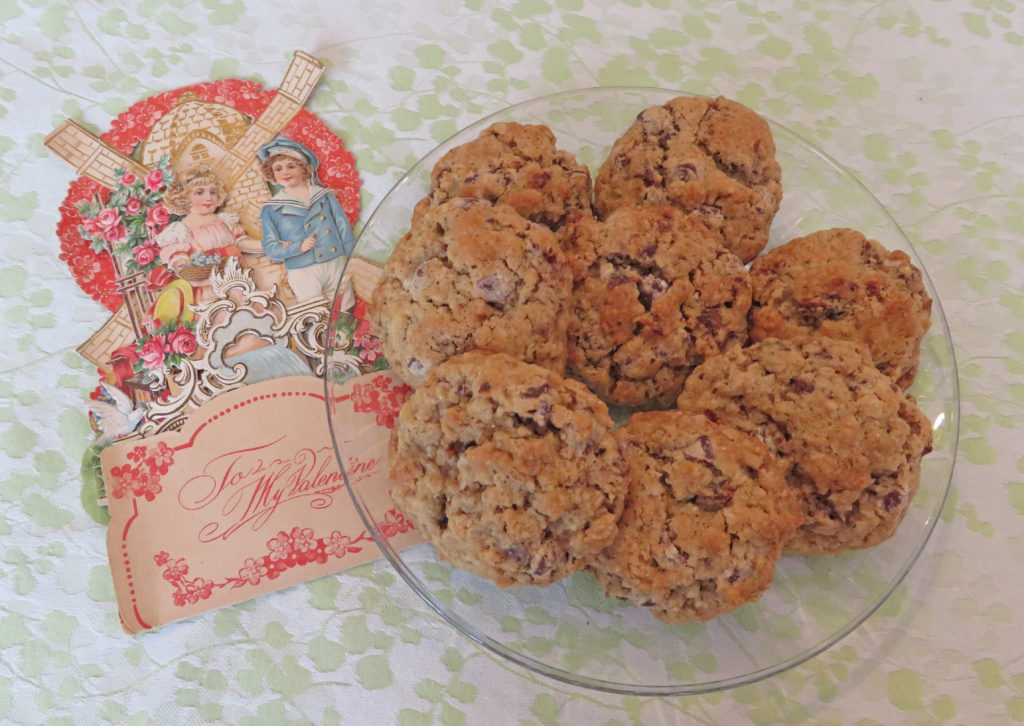 Sharing this post with Tuesdays with a Twist.