Two years ago I began corresponding with Marguerite Bouvard. She was looking for contributors for an anthology on illness and faith. I offered to write a chapter about my family's experience caring for our son during his treatment for leukemia.
We continued to e-mail back and forth. I wrote my chapter, and Marguerite edited the anthology that includes the stories of twelve people that refer to different faith traditions:Christian, Jewish, Buddhist, Native American,Yoga. The book is titled Illness, Resilience and Spirituality.

Now I have the book in hand, and as I read through the chapters I see vulnerability as well as resilience. The book is not theological. It is the way twelve people have encountered illness and death, along with the questions that come with human frailty.
A serious illness leads to a search for hope. Some chapters have a perspective that seem self reliant. Other chapters find hope through the Bible and prayer. A couple of chapters mention how the faith of a grandmother was influential.
Victoria Molt's account of faith and prayer through mental illness touched me. My brother's illness has sensitized me to the isolation that many with mental illness experience.
The importance of a faith community stands out in many of the chapters.
The chapter that I wrote is the first in the book and is titled, "Prayers Through Illness and Loss". The book is available on Amazon.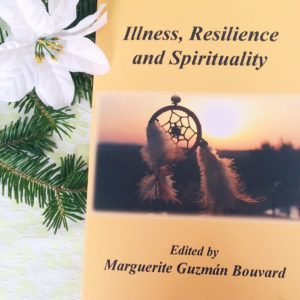 This post is linked with Booknificent Thursday and Literary Musing Monday