My mother's birthday was last month. We celebrated her 98 years. She is cared for in a nursing home in Michigan. She has significant memory loss and is wheelchair bound.
She recognizes family as familiar people and is happy to see us. Sometimes she reverts to the language of her childhood, Finnish. I can only catch the drift of what she is saying.
When she was a child her mother made pasties—meat, potatoes and rutabaga wrapped in pastry. It was a typical meal for miners. My mother's father worked in the copper mines.
This Upper Michigan specialty was passed on to us. Mom made pasties for our family. We had summer vacations in Upper Michigan and visited relatives there. On a sunny day we would take a picnic basket full of warm pasties, some soda or juice and a thermos of coffee for a picnic lunch at a park along the shore of Lake Superior.
So for her birthday we had a pasty lunch. I brought pasties that I had made at home. My sister and our husbands were able to set a table in the activity room at the nursing home. Mom was more alert and talkative than she has been lately. It was a lovely day.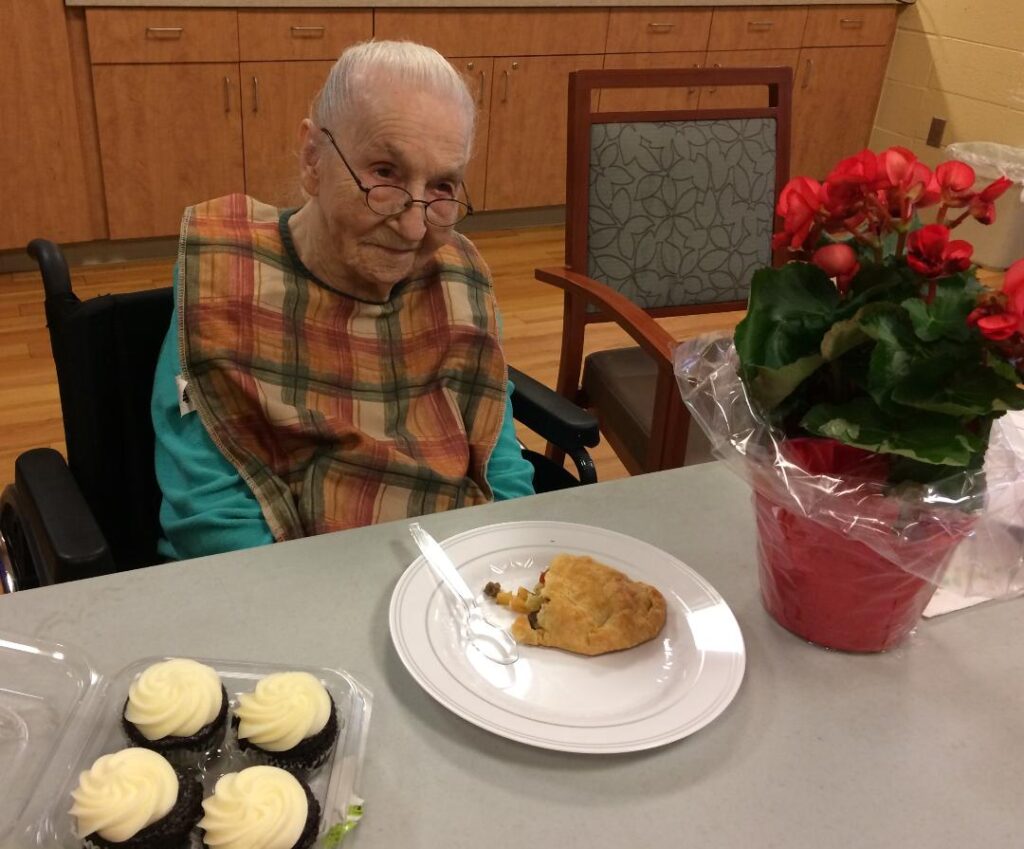 Here is my recipe for pasties:
Pastry:
3 C. flour
½ tsp. salt
2/3 C. shortening
1 egg yolk, reserve the egg white
½ C + 2 Tblsp. cold water
1 Tblsp. cider vinegar
Combine flour and salt. Cut in the shortening until it appears as coarse crumbs.
Mix the egg yolk, water and vinegar. Gradually add this to the flour mixture, stirring with a fork. Add the water slowly and stop when all is moistened. Mix just until it holds together. If needed added additional water a tablespoon at a time.
Divide the dough into six portions and roll out each portion to a 9" circle.
Filling:
1 lb. round steak, diced or coarsely ground
1 C. rutabaga, chopped
½ C. finely chopped onion
4 large potatoes, peeled and diced
1+ ½ tsp. salt
Place a generous cup of filling on half of each dough circle. Fold the other half of dough over the filling and crimp the edges. Place the pasties on a lightly greased cookie sheet. Whisk the reserved egg white until it is a little bubbly; then brush the pasties with the egg white. Bake at 350 degrees for one hour. Serve hot.
NOTE: Optional additions to the filling include chopped carrots, shredded kale, garlic, herbs.

This post is shared with the Five Minute Friday writing community. Today's prompt is: TABLE