It is the last day of February and my dwarf irises are blooming. I was surprised to see their purple petals as I returned home from a weekend trip. Winter isn't over, but my tulip and hyacinth bulbs are sprouting leaves.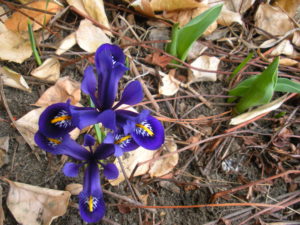 What will our spring be like? My thoughts turn to garden plans. Every year I like to introduce a new plant to my herb garden.
It is so convenient to have fresh herbs for the kitchen. I have thyme for chicken and broth, sage for turkey, rosemary for potatoes and soups, chocolate mint for coffee, tarragon for salad dressing and basil for pesto and tomato sauce.
This year I want to add stinging nettle. I am familiar with nettle tea, having read about it in the Wise Woman Herbal for the Childbearing Year.
The common stinging nettle is a uterine tonic and general nourisher with a special ability to strengthen kidneys and adrenals. Its high mineral and chorophyll content makes it an excellent food and tonic for the hormonal system.*
The New American Herbal has more information about this plant. It is called stinging nettle because the leaves have fine hairs that cause pain and inflammation when touched. It is important to wear rubber gloves when harvesting the leaves of this plant.
Properly handled with gloves and long sleeves the leaves can be easily gathered and then neutralized by the heat of cooking . . . Once you know how to respect them, you'll find nettles deliciously mild with a deep nutty green taste and a slightly minty finish. **
I saw a recipe for nettle soup in a Swedish cookbook. I think the nettle leaves would be a good addition to broth—adding good mineral content as well as flavor.
And so I will order some stinging nettle seeds from Mary's Heirloom Seeds. Then I have to decide on a safe place to grow them—perhaps in a container.
Do you have some garden plans?
*Susun Weed, Wise Woman Herbal for the Childbearing Year, Ash Tree Publishing: Woodstock, New York, 1986, p. 2
**Stephen Orr, The New American Herbal, Crown Publishing Group, New York, 2014, p. 330
Sharing this post with Garden Week at You're the Star,  the Art of Homemaking,  the Homemaking Party, the Healthy Happy Green & Natural Party,  Tuesdays with a Twist and Sue's Wordless Wednesday