Dates have some surprising health benefits for expectant mothers.
Women often receive a prescription for iron during pregnancy.  During pregnancy a woman's blood volume increases by 50% and the red blood cells increase by 30%. Red blood cells contain hemoglobin that carries oxygen; iron is a component of hemoglobin.
Iron is a vital mineral during pregnancy. A low hemoglobin level is associated with fatigue and is a risk factor during childbirth.
I looked up iron-rich foods in my nutrition almanac and found this list:
Organ meats and meats, eggs, fish and poultry
Blackstrap molasses
Cherry juice
Green leafy vegetables
Dried fruits [including dates]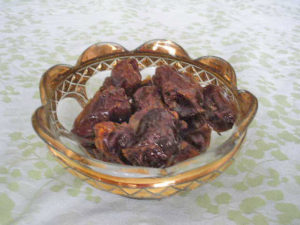 A research study, published in March of this year, looked to see if eating dates in the last trimester of pregnancy had an impact on a woman's     labor, childbirth experience. The study demonstrated that women who consumed dates had less of a need for medication to augment their labor.
Here is a muffin recipe that has iron-rich ingredients, including dates. Brown rice flour or a gluten-free blend works fine.
Date Muffins
Ingredients:
1 + ½ cup flour
½ cup almond meal
2 + ½ tsp. baking powder
½ tsp. salt
½ cup pitted and chopped dates
¼ cup melted butter
¼ cup honey
3 Tblsp. unsulfured dark molasses
2 eggs
½ cup almond milk (or other milk of choice)
Preheat oven to 350°
Combine flour, almond meal, baking powder and salt. Stir the chopped dates into flour mixture until well combined.
Mix together the melted butter, molasses, honey, lightly beaten eggs and milk.
Then mix the liquid ingredients into the dry. The batter will be a little lumpy. Fill the muffin cups—I had enough batter for 14 regular size muffins.
Bake at 350° for 18 to 20 minutes or until a toothpick comes out clean.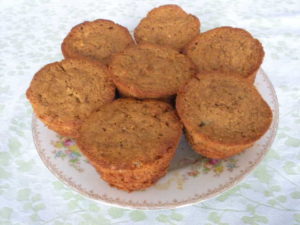 You can find the study about the effect of date consumption on labor at this public health site.
Sharing this post with the