We lived in troubled times and sometimes it is difficult to discern truth. It is hard to know how we should respond to things happening around us. Looking back over the centuries, this has always been the case in human history.
It is thought that the writer of the book of James was Jesus' brother. James saw his brother mature and become teacher and healer, but didn't believe he was the Messiah. He lived through the time of Jesus crucifixion. After the resurrection he became a believer and leader in the church. He saw the persecution of the followers of Jesus (the Way) as described in the book of Acts. Stephen was martyred, Paul was beaten, Paul and Silas were jailed. How does a Christian traverse deeply troubling times? James writes:
If any of you lacks wisdom, let him ask God, who gives generously to all without reproach, and it will be given him. But let him ask in faith, with no doubting, for the one who doubts is like a wave of the sea that is driven and tossed by the wind. James 1: 5-6 ESV
Perhaps James was alluding to the experience of the disciples. The disciples had seen Jesus perform miracles of healing, but when their boat was caught in a storm on the sea of Galilee. Jesus was a sleep, and they were afraid.
And they went and woke him saying, "Master, Master, we are perishing!" and he awoke and rebuked the wind and the raging waves, and they ceased, and there was a calm.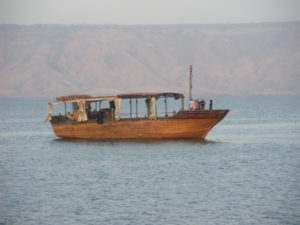 He said to them, "Where is your faith?" Luke 8: 24-25a ESV Stop//
I don't always approach difficulties with a prayer of faith. Fears can get in the way. Corrie and Betsy ten Boom approached their time in a concentration camp with prayer. I recently saw the story of Betsie and the Fleas posted on Jacqueline's blog. Betsy, with her prayers of faith, saw God work in a way that she could not have imagined.
God's desire for us is to flourish in a way that honors Him and that shines a light in the world.
When the culture brings difficult and confusing issues to our doorstep, we can ask for wisdom from God.
When we are challenged as parents, or when we experience difficulties in marriage, we can ask for wisdom from God.
When we experience health problems and different approaches to treatment are possible, we can ask for wisdom from God.
If you don't know what you are doing, Pray to the Father. He loves to help. You'll get his help, and won't be condescended to when you ask for it. Ask boldly, believing, without a second thought. People who "worry their prayers" are like wind whipped waves. Don't think you are going to get anything that way, adrift at sea, keeping all your options open. James 1: 5-8 MSG
This post in linked to the Five Minute Friday Community. Today's prompt is: LACK