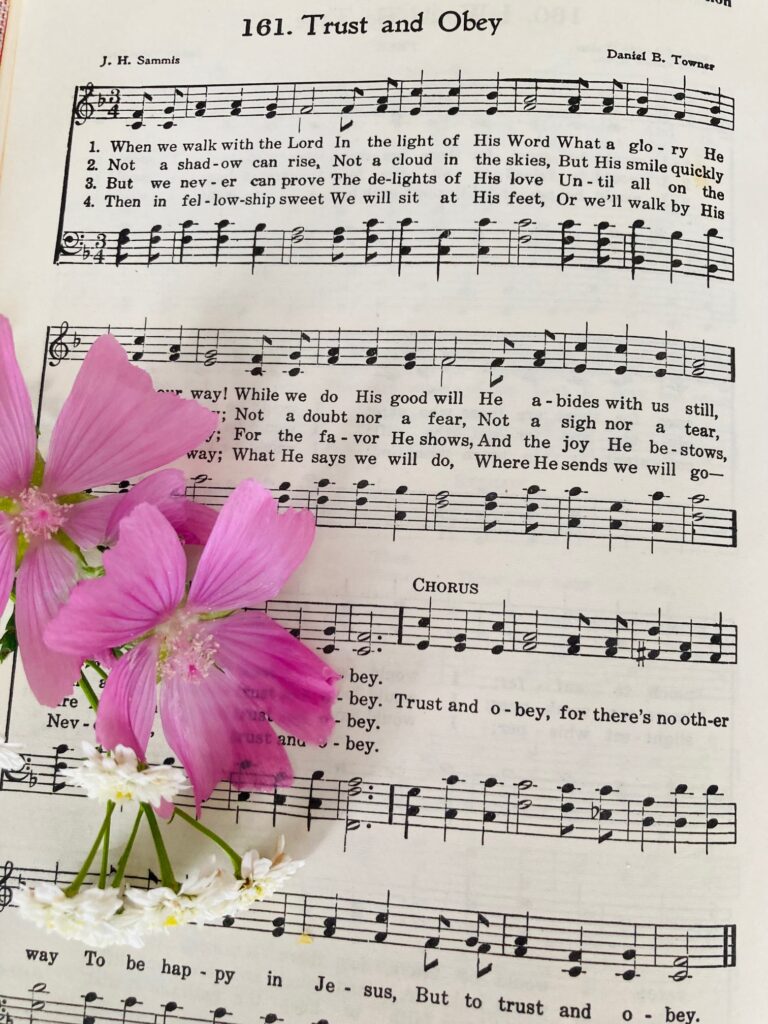 Trust and Obey. The words to this hymn come to me easily. Throughout my childhood we sang it at church. There is a blessing in memorizing Bible verses and singing hymns as a child. The words reside in memory.
The first verse about trust that I think of is Proverbs 3:5 Trust in the Lord with all your heart, and do not lean on your own understanding.
Last night I spent some time looking at the word, trust, in the Bible. It occurs frequently in the Old Testament of the Bible. The Hebrew word(s) give the meaning of having confidence or finding refuge.
This word hardly appears in the New Testament. Instead, faith appears frequently. Faith is defined as belief, assurance. Because Christ has come, paid for our sins on the cross and risen from the dead, we have assurance of our hope.
While studying the book of Romans I noticed that Paul wrote about the obedience of faith in first chapter of Romans and again in the last chapter.
Jesus Christ our Lord, through whom we have received grace and apostleship to bring about the obedience of faith for the sake of his name among all the nations, including you who are called to belong to Jesus Christ. Romans 1:5-6
Now to him who is able to strengthen you according to my gospel and the preaching of Jesus Christ, according to the revelation of the mystery that was kept secret for long ages but has now been disclosed and through prophetic writings has been made known to all nations, according to the command of the eternal God, to bring about the obedience of faith—to the only wise God be glory forevermore through Jesus Christ! Amen. Romans 16:25-27
Obedience of faith—a phrase that we can meditate on.
Do you have a hymn that you remember from childhood? Or if you came to faith later, do you have a favorite hymn?
Sharing this post with the Five Minute Friday writing community .